Dose and Dose Rate Monitoring
LB 126 portable Dose- and Doserate Monitor
Handheld monitor for measurement of ambient dose equivalent H*(10) for photon radiation with energy compensated proportional counter tube LB 6006-H10.
Patike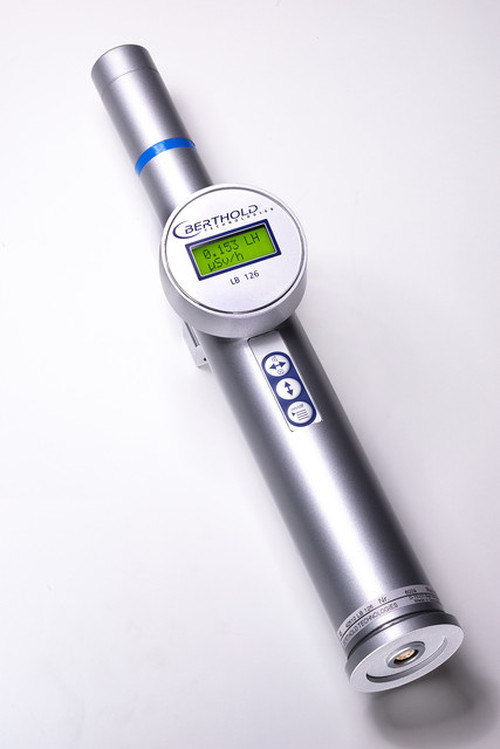 The LB 126 is a portable Dose Rate Monitor which is used in the entire field of radiation protection. A sealed off proportional counter tube, approved in accordance with the new standard H*10, is used as detector.
Three buttons suffice to navigate through the clearly arranged and userfriendly
menu prompting.
Up to 1000 measurements can be stored in the data memory and this data can be accessed and printed out via a RS232 and/or a RS485 interface. Serial data communication with the PC, i.e. reading and reset of the data memory, acquisition of the measurement values, reading the parameters and reset of the dose, takes place via F2C Protocol.
Up to 32 devices can be linked via the integrated RS485 interface within a RS485 bus system.
Features
Compact and power-saving microprocessor electronics with charging circuit for 4 rechargeable batteries (AA cells)

Measurement of the new quantities ambient dose and ambient dose rate equivalent H*(10)

Energy-compensated low dose counter tube LB 6006-H10 according to ICRU Report 39

Easy operation by means of 3 softkeys

Signal and alarm indication

Free selectable alarm thresholds for dose and dose rate

Data storage for 1000 measurements

RS232 and RS485 data interface for printout and communication;




RS485 networking for up to 32 devices